Founder Enoch Smith Sr. grew up in the inner city of Chicago. He played Park District football for the Ogden Park Vikings in the late '80s. He went on to start his high school career at Bolingbrook High School. He later moved back to Chicago to attend Wendell Phillips HS. Enoch understands that sport is a vehicle to help student-athletes to live out their dreams. He was recruited to play linebacker at the University of Illinois. He became a father at an early age, that's when he decided to hang up the cleats to focus on fatherhood. After three years of working, he decided to give football another chance. At the age of 22, Enoch decided to give school another chance with a wife and three children – Simone, Enoch Jr., and Trevon.  In 1998 he walked on to Highland KS football team. At first, it was a huge struggle. He started out as a linebacker and later moved to Defensive End. Enoch Sr. graduate from Highland Community College in 1 ½ year with an Associate of Science Degree in Engineering. He graduated with honors as an Academic All-American. He was recognized by the NJCAA as an All-American. He led Highland Community College in sacks. He received an award from Highland CC as an All-Conference. He was Homecoming King as well.
Enoch Sr. finished his college career at Southwest Missouri State known today as Missouri State University. At Missouri State University Enoch Sr. led his team in sacks during his senior year. He was awarded by his coaches as an All-Conference captain. The Gateway Football Conference recognized him as a 1st Team All-Conference Defensive End. He also became a member of Phi Beta Sigma Fraternity Inc. Enoch Sr. was called by the New Orleans Saints. Things didn't work out so he played Arena Football. In 2004 he helped to lead the Peoria Pirates to the Arena Cup. He was recognized by the Peoria Pirates as the Iron Man of the Year. Enoch Smith Sr. has an M.Ed in K-12 Administration from Keller Graduate School of Devry and an M. Ed in Curriculum & Instruction & Minor in Leadership from Concordia University, Portland, OR. He is currently pursuing his Doctorate in Christian & Ministry Leadership from Liberty University in Lynchburg, VA.
CAREER HIGHLIGHTS INCLUDE
Naperville Patriots
Offensive and Defensive Line Coach 7/2015-Present
     Coaching Duties
Taught the fundamentals of the offensive and defensive line
Implemented the weekly game plan
Taught the linemen how to utilize their hands to gain an advantage on their opponents.
Resulting in the Patriots winning the 2015 National Championship. 
EFT, Highland Park, IL
Defensive Line Coach 7/2013-3/2016
Coaching Duties:
Worked with college graduate defensive linemen to prepare for NFL combine.
Worked with college and high school players teaching the fundamentals of the defensive line during summer football camp.
Taught the fundamentals of the defensive line during showcases, combines, and big man camps.
Filled in as the Offensive Line Coach merging both groups when the Offensive Line Coach was absent.
Coached the following players: Enoch Smith Jr. Michigan State, Wesley Annan Stanford, Naquan Jones Michigan State, Daniel Joseph Penn State and Vontell Williams UTSA amongst others.
Collins Academy HS, Chicago, IL
Head Football Coach/Defensive Coordinator 7/2007-7-2013
Coaching Duties:
Supervised the football program for grades 9-12 grade.
2010 lead the team to its first IHSA State Playoff game in school history.
Served as the Defensive Coordinator from 7/2007-7/2009
Plainfield Prowlers
Head Football Coach 2010
Supervised the Varsity youth football program.
Provided all coaches with a weekly game plan.
Implemented a pro-style offense
Met with parents to address any concerns
———————————————-
Professional Organizations:
2006 signed by the Peoria Pirates of the Indoor Football League
2005 signed by the Las Vegas Gladiator of the Arena Football League
2004 signed by the Peoria Pirates of the Arena Football League
2002 signed by the Tulsa Talons of the Arena Football League.
2002 called by the New Orleans Saints to work out to join the National Football League.
Certifications:
Illinois Type 39 certificate
ASEP certification
Illinois Athletic Director Association lifetime member
Awards:
Ironman of the Year for the 2004 Peoria Pirates
2001, 1st Team All-Conference selection Gateway football conference
2001 Missouri State Defensive Lineman of the Year
1999 NJCAA Defensive Line Award
1999 Highland CC Defensive Lineman of the Year
1998 Highland CC Defensive Lineman of the Year
1995 All-City and All-Conference recognition in Chicago Public School
1995 All-Star game participant for the Chicago Public League
Camp OL/DL Coaching Experience:
Adidas Showcase 2019
Starts Up Front Indiana Linemen Exposure Camp 2019
Rise and Fire High School and Youth Camp 2019
United Stars Chicago Showcase Camp 2019
Athletic Konnection High School Camp 2019
United Stars Chicago Showcase Camp 2018
Athletic Konnection High School Camp 2018
Rise and Fire Youth Camp 2018
Chicago Showcase 3/2016
Edgy Tim MLK Showcase sponsored by EFT 1/2016
Edgy Tim Senior Showcase sponsored by EFT 12/2015
Sound Mind Sound Body 7/2015
Adidas Chicago Showcase sponsored by EFT 3/2015
EFT Football Invitational Camp 12/2014
EFT Development early morning camp 2014
Junior Ranks 2013 Camp
Dr. Marques Stevenson, EdD,  Offensive Line Coach
We are excited to add Dr. Marques Stevenson to our staff at Starts Up Front. Developing players physically, mentally & emotionally is a critical part of helping an athlete reach their potential. Coach has a background not only in coaching but the recruiting process for potential college players.
Dr. Stevenson
Stevenson comes from a storied coaching background; in high school, he played for two Hall of Fame Head Coaches, Tim Kelly (basketball) and Dick Zatkovitch (football) at Lincoln High School (Washington). He also grew up under the watchful eye of Chicago Bears Retired coach and scout Willie Peete along with Sam and Sean Manuel both former San Francisco 49ers.
Currently, he utilizes positive coaching principles that incorporate sport psychology mental skills curriculum to help draw out the best in his athletes. He has worked with varsity basketball, wrestling, track, and field, along with football.
Coach Stevenson completed his Doctorate in Sport and Performance Psychology graduated on September 21st, 2018. He earned his Master's degree in Clinical Mental Health Counseling from Lamar University. He earned his bachelor's degree in Psychology and Sociology from Culver-Stockton College.
The Recruiting Process 
One of the most confusing parts of high school athletics is the collegiate recruiting process, where there are numerous scouting agencies and talent scouts that profit purely off of parents lack knowledge about the process. Here at the Starts Up Frons Sports Performance, our aim is to help the recruiting process become completely transparent to you and your student-athlete. In doing so, we will lay everything out for you, with step by step instructions on how to properly identify a potential school based on a college counseling curriculum.
As a staff, we will sit down with you and your student-athlete individually and discuss the process of identifying "target", "reach" and "safety" schools. We will utilize these categories to identify a true fit factor for your student-athlete to streamline the recruiting process and the academic enrollment process. It is our aim to help student-athletes maximize their academic and athletic potential. In doing so, we will assist you in finding schools that fit your needs both athletically and academically.
The ultimate goal is not just to get a division 1 scholarship but to go division free, meaning, that we want your student-athlete to go to an institution that will provide a free educational experience.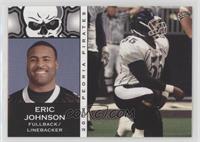 Eric Johnson Sr. Defensive Line Assistant Coach started his football career at Saint Rita High School. Eric was a three-sport athlete for the Mustangs. In 1992 EJ signed a letter of intent with and attended The University of Pittsburgh, where he played Football and Track. In 1994, Eric transferred and finished his eligibility with the Redbirds of Illinois State. Eric was an All American and pre-season defensive player of the year and finished his career number 4 in All-Time sacks.
In 1997, Eric was signed a Free Agent contract with the New York Jets. After being released from New York, Eric spent the next 4 years with the Edmonton Eskimos of the CFL. In 2001, Eric was drafted by the upstart La Extreme of the XFL. After XFL folded after one season, Eric played for the AFL and a few other Arena Leagues to end his career. EJ's last season was in the spring of 2007.
Eric has also coached two years for Illinois Wesleyan and two years as the Varsity D Line coach for Plainfield South High School. EJ is married and has four Children Two of the three boys, are products of SUF and are playing Division One football. In 2004 Enoch Smith and Eric Johnson were teammates when they led the Peoria Pirates to the AFL Championship.
Eric is passionate about coaching and passing on what he has learned. He is particularly fond of coaching pass rush and the future pass rushers of tomorrow.
Enoch Smith Jr Defensive Line Coach 2018 Liberty Bowl Defensive MVP
Began his career at Michigan State, then spent a year in junior college before coming to Oklahoma State for the 2017 season.
2018 (Senior): Played in all 13 games and started nine after an injury ended Darrion Daniels' season … Recorded 30 tackles, 3.0 tackles for loss and two quarterback hurries … Voted by members of the media as Defensive MVP of the Liberty Bowl after racking up a career-high seven tackles and 1.5 tackles for loss … Recovered a fumble as part of the Cowboys' win over No. 17 Boise State and then recovered a second fumble that set up a score against TCU … Logged four tackles in the Bedlam game and had three tackles in OSU's win over No. 7 West Virginia … Also had three tackles against TCU and South Alabama … Had a tackle for loss against South Alabama and assisted on a tackle for loss against Boise State … Served as a game captain against Iowa State … Helped the Cowboys rank in the top 20 nationally in sacks, tackles for loss and red zone defense.
2017 (Junior): Played in 11 games and was effective in a reserve role, amassing 2.5 sacks and 5.5 tackles for loss … Had solo sacks against South Alabama and Kansas State and assisted on a sack against Kansas … Set a career-high with four tackles against Tulsa … Had two tackles for loss against Kansas State and one in the Cowboys' bowl victory over No. 22 Virginia Tech and against both Tulsa and South Alabama … Assisted on a TFL against Kansas.
Junior College: Spent the 2016-17 academic year at Kennedy-King College in Chicago … Chose Oklahoma State after also being recruited by Kentucky, Syracuse, Illinois and Michigan State … 247Sports listed him as the No. 23 junior college defensive tackle prospect in the 2017 class.
2015 (Freshman at Michigan State): Made appearances against Air Force, Maryland and Penn State … Recorded his lone tackle vs. Maryland.
2014 (Redshirt at Michigan State): Redshirt. Selected Scout Team Defensive Player of the Week vs. Wyoming.
High School: Played for coach Frank Lenti at Mount Carmel … Selected by USA Football to the 2014 U.S. Under-19 National Team to face Team Canada in the 2014 International Bowl series Feb. 7 at Maverick Stadium at the University of Texas at Arlington … Ranked among the nation's top defensive tackles by Rivals(No. 20), Scout (No. 30) 247Sports (No. 30) and ESPN (No. 32) … Rivals listed him as a four-star prospect … Listed among the state's top players by Rivals (No. 11), ESPN (No. 13) and 247Sports (No. 17) … Named to PrepStar's All-Midwest Team … Helped lead the Caravan to back-to-back state championships (8A in 2012; 7A in 2013) … In the 2013 7A title game, the Caravan defense limited Lake Zurich to four first downs and 71 total yards …. Mount Carmel finished the season with a 13-1 record and the Caravan defense allowed just 96 points all season and produced six shutouts … Recorded 48 tackles, including 14 tackles for loss … Earned second-team all-state honors from the Chicago Tribune … Named to the Northwest Times of Indiana all-area Illinois first team … Honored on the first-team All-Catholic League … Picked up all-state special mention honors from The News-Gazette and all-area special mention honors from the Southtown Star … Named the South Bay West Coast Bowl Player of the Game after recording five sacks in the all-star game played in Redondo Beach, Calif. … Also named the South Bay West Coast Player of the Year … Committed to Michigan State after holding other offers from Arizona, Cincinnati, Duke, Eastern Michigan, Illinois, Indiana, Iowa State, Kansas, North Carolina State, Northern Illinois, Notre Dame, Purdue, Syracuse, Tennessee, Toledo, and Western Michigan.
Personal: Enoch Smith Jr. was born Dec. 25, 1995 … Son of Enoch Smith Sr. and Talisha Smith.